https://www.theorganicprepper.com/stay-warm-during-a-long-term-shtf-situation/


Selco: How to Stay Warm During a Long-Term SHTF Situation

As America is dealing with a record-breaking cold snap and

a weird storm hitting the East Coast

, some folks are having to handle the whole thing with the power out also. But we all know that at least this time, our situation is temporary. Most of us have power, and those who don't will have it restored within a few days. But what if you had to stay warm during a long-term SHTF situation?

After your warm response to

Selco's story about Christmas during the SHTF in Bosnia

, I hired him to start writing for us more often. Today, he shares with us what it was like to try and stay warm during an entire year in a war zone without any type of utilities. It's a lot of information, and we can apply this to our preps.

Selco's information is incredibly valuable because he has actually been through what we plan for during our preparedness endeavors. He teaches this information in-depth on his website,

SHTF School.

Let's get started.

The US is dealing with quite a cold snap right now, and it got me thinking about your SHTF year in Bosnia. First of all, what is the winter like there? How cold does it get and what is the climate? In a small part of the country close to Adriatic sea it is Mediterranean climate with mild winters and temperatures then goes just below 0 or -5 Celsius

(32-23 Fahrenheit)

and in other parts of country it is a Continental climate with temperatures during the winter -10 or -18

(14-5 Fahrenheit)

, with cold waves down to -26 (-15 Fahrenheit) and a lot of snow. Very usual are periods of strong cold wind (Bora) that actually can lower your body temperature very fast and complicate things. Sounds weird but after experiencing snow and -20 during SHTF and Bora at -2, I had most problems with that wind and -2 Celsius simply because it lowers your body temperature fast and suddenly. Did you have any public utilities at all during this time? All public utilities went off in first few weeks one by one. Electricity, water, heating (city central heating service) and phone lines, etc. Did most people have homes with fireplaces or off-grid heating methods before this time period? Or were the homes modernized to the point that they were not functional? During the late 70s and early 80s in the region, there was huge effort in modernizing cities heating services (partly because pollution) so majority of city apartment buildings and part of private houses were "connected" on a public central heating system, either on natural gas or oil fuel (hot water system in radiators, through piping system) As a result of that, building apartments had no fireplaces, even if they had places for smoke exhaust (vertical flue that provides a path through which smoke from a fire is carried away through the wall or roof of a building- exhaust) they were not in operating condition because nobody needed it for 20 years or so. They were clogged, destroyed, blocked, or similar. Because that lot of home fires happened in first period of SHTF in apartment buildings simply because people wanted to install some kind of wood fire stove and send the fumes through an exhaust system that was not in use for decades. I live in an apartment building now, in a building block of some 800 apartments. Again, the buildings have fireplace exhaust systems, but nobody used it for last 20 years, because the central heating is working perfectly. So they are clogged, blocked, or destroyed. Mine is in perfect operating condition and ready all the time because I keep it like that. In private houses, the situation was bit different. Yes, people rely a lot on heating through eletric heaters but most of the houses still had fire wood stoves of some kind and operating exhaust system partly because tradition but also for heating. Still, a lot of the homes that even had a fireplace (way and place to start a fire either for heating or cooking or both) they had it in, let's say, not an economic way. Nobody thought that firewood was gonna be so expensive and hard to get. A lot of people simply had fireplaces as a decoration, not in a way to heat house in most economic way (in terms of used-fuel-heat-given ratio) How did people stay warm? We can say that first step was that people simply "shrunk" their living space. For example, if a family of people had a house with six rooms they simply stopped using four rooms, and they lived in two rooms only, because of a simple reason – it was easier to heat two rooms only. To get wood for heating was a hard process and often dangerous, so how much fuel you spent in your home was a matter of staying alive.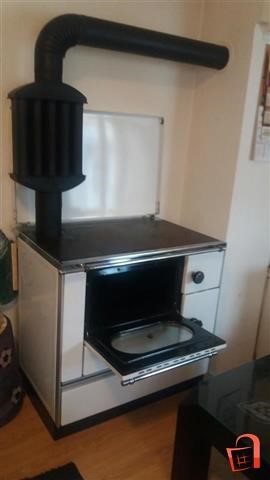 Old style wood stove with a smoke-exhaust-pipe (that would be put through the hole in the wall to outside- if a chimney-exhaust system was not existing in that room.
Comfort was completely forgotten because of necessity.
Also people insulate their homes with what they had. A majority of windows were crushed (glass) because of detonations (shelling), so people blocked window openings with what they had.
Blanket, pillows, nylons, and tarps were used for that. Also, duct tape was a very useful item.
Homes were kinda rearranged in order to make it more energy efficient in very rudimenrtary ways. For example, if a house had smoke exhaust just in the kitchen but that kitchen was not good for having wood stove there, then simply stove was moved from that kitchen into the desired room. A hole was made in that room (for smoke exhaust) and the stove was put there.
You need to understand that homes (houses, apatments) when SHTF were very fast to deteriorate. There was no service to call, remember. Leaks from the roofs, freezing temperatures… all that makes your house quite problematic to live in. We were trying to fix what we could, but insulation was problematic very quickly. A lot of problems could have easily been solved with simple items like insulation foam (in spray containers) for example, but nobody was prepared for SHTF. (Yes, I have it now).
Leaving some room out of use was not only because heating, often some rooms were not used because they were exposed to firing. (Choosing the part of the house that will be not used – or at least not used often – was also based on from what direction you could expect gunfire or shelling.)
Sometimes rooms weren't used simply because there were not enough people to watch that space for outside threat.
Parts of the house that were too exposed to threat (let's say close to the street, or rooms with too many windows) were simply blocked or not use. Or in other case if enemy position were from south we simply did not use rooms on that side for sleeping because chance was bigger that side was gonna be hit with grenade or smaller size bullets. And on top of that, we needed to take care about heating not necessary space.
So in short "rearranging" living space was mainly depending on:
Immediate threat (physical threat- let's say someone could enter your home through the room close to the street because you can not watch that room all the time.)
Shelling threat – taking into consideration from what direction most of the bigger caliber things are coming
Cutting off unnecessary parts of the house to save heating
I can say that living inside a home during winter was subdued completely due to the fact that fuel needed to be saved.