FIND YOUR TACTICAL LIGHT HERE
AND HELP OUT TO FILL MISSING INFORMATION, LIKE LUMENS OUTPUT
In the few years that I have been playing with tactical lights, I have accumulated a few, some I don't even remember run time and lumens output claimed.
It is not going to be any beam shots here, for that I have a thread titled "Lights for law enforcement" that contain plenty of comparative beam shots.
There are four pictures, I will include a commentary and name most of them, some will be no named, for you to tell me what they are and some just because I don't remember.
The numbering goes from left to right.
GROUP ONE IS OF THE TWO BATTERY SYSTEM LIGHTS
Number one: I have a few of them, they come with remote cord for mounting in rifles or with tactical switch, can you name it and give lumens information?
Number two: heavy rubber covering, please name it and give more information
Number 3: it is a Surefire G-2 with P-60 lamp, 65 lumens, one hour run time
Number 4: It is a Surefire Aviator (A-2) with 50 lumens in the Luxeon lamp
Number 5: It is a Surefire with shock absorbing bezel, which one?
Number 6: It is a camo Centurion II Surefire, which model denomination?
Number 7: It is a Surefire Centurion II in Hard anodized, P-61 lamp, 120 lumens
Number 8: Surefire L-4 Digital Lumamax 65 lumens
Number:9 This is a McGizmo PR T head on a E2o body, TWOJ bin, 120 lumens
Number 10 What is this light? it uses a P-61 lamp, 120 lumens
Number 11 Pelican M-6 what is the lumens output?
Number 12 Tac Star T-6 can't remember lumens output
Number 13 ASP Taclite can't remember lumens output claimed
Number 14 Streamlight TL-2 I think they claim 114 lumens
Number 15 Streamlight Night Fighter II, it is covered with Velcro
Number 16 Tell me which Surefire is this, notice the clip, 65 lumens
Number 17 Scorpion, how many lumens are claimed?
Number 18 Inova T-5 The "T" is for tactical, but the lumens are low.
Number 19 This is a 3 watt Luxeon, second click strobes the light, which one?
Number 20 Streamlight Luxeon III with two levels, top is 75 lumens.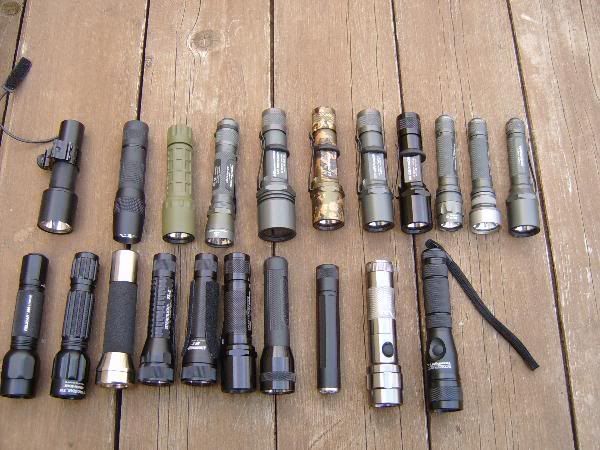 GROUP NUMBER TWO, 3 CELLS LIGHTS
Number 1 Surefire Centurion III, P-90 lamp, 105 lumens (Which holder?)
Number 2 Surefire 9 P, with P-91 lamp, 200 lumens
Number 3 Streamlight TL-3, 200 lumens claimed, with Suarez-ring
Number 4 Anybody knows what is this (P-91 lamp, 200 lumens)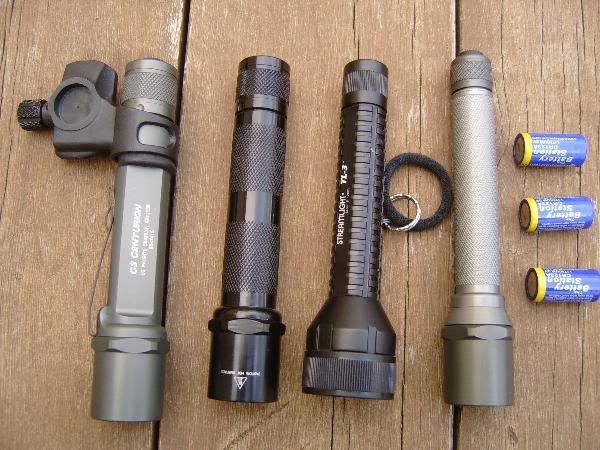 GROUP THREE. 4 CELLS
OPPS, FORGET SOME OF THE 2 BATTERIES LIGHTS, HERE THEY ARE
Number 1 It is a Brinkmann two 123's click tail cap, which model?
Number 2 What is this?
Number 3 Surefire E2e 60 lumens
Number 4 Surefire E2D
Number 5 Cabela's four 123, 240 lumens, which model?
Number 6 Bear Cub, rechargeable 220 lumens for 90 minutes
Number 7 Ultra Stinger 295 lumens claimed.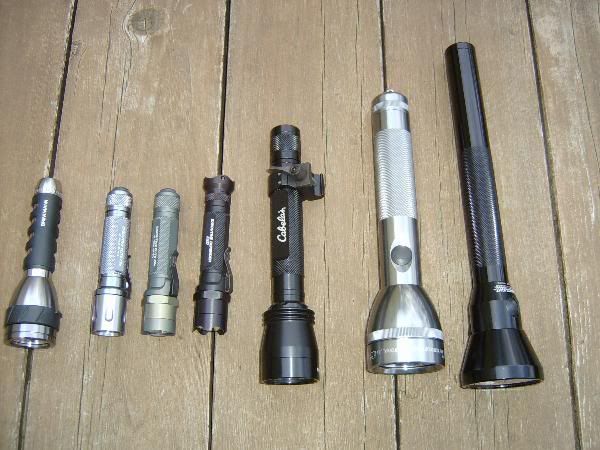 HEAVY ARTILLERY
Number 1 Surefire M-4 350 lumens for 20 minutes (four 123's)
Number 2 Surefire M-6 500 lumens for 20 minutes (six 123's)
Number 3 POLAR BEAR, 426 lumens for 75 minutes, rechargeable
Number 4 Black Bear 720 lumens rechargeable, 40 minutes run time.
Number 5 BOREALIS 1050 lumens, rechargeable, 50 minutes run.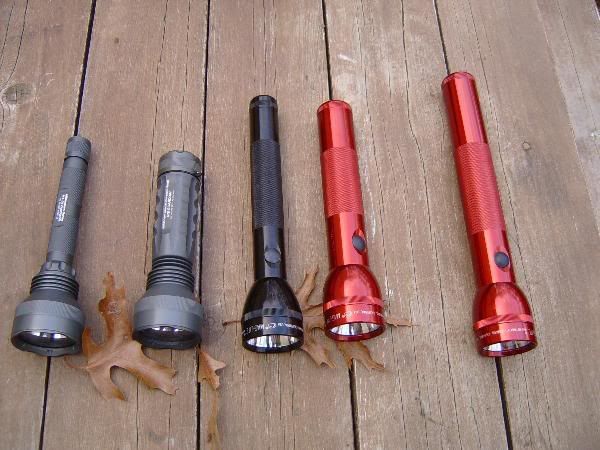 Guys, have fun
Respectfully
Black bear