Re: lights for law enforcement
THE 200 LUMENS BATTLE
There are now a number of aftermarket lamps for the popular series of Surefire lights.
They will fit the Surefires series: 6P, C, Z, D, G, and maybe others.
I just received a new one that claims 290 lumens and is called a Cree R-2 (itís supposed to be even more powerful than the Cree Q-5).
I decided to do a shoot out with an assortment of lights that I have in the 200 plus lumens class. That way the members can see how they perform against each other.
Run time was not measured for lack of time and because I am running short on 123ís batteries. The bigger lights, namely the Surefire M-4 with the MN60 lamp (225 lumens for 60 minutes on four 123ís disposable batteries) and the Bear Cub from Black Bear Flashlights (220 lumens for 90 minutes on rechargeable Li Ion batteries) are big throwers and with them you can see clearly objects 120 and 150 yards away.
On the other hand the small reflectors of the Surefires G-2, Centurion 2 and Fenix T-1 are dispersing all those lumens close by, creating a great flood.
Those pocket lights will be great to use as tactical lights by law enforcement personnel, and especially good at clearing houses, while the Surefire M-4 and the Bear Cub will make great lights for car, truck and the open spaces.
The literature of the Fenix states that itís good for 200 yards, it will probably make a reflective target like a stop sign glow at that distance, but it would hardly illuminate any other object. My perception from trials I made, is that this light as well as the others LEDís canít be count to illuminate (poorly) objects beyond 60/70 yards.
In any case, a lamp upgrade if you own a Surefire pocket light, is a good idea as any of them are more powerful than the stock incandescent lamp of 65 lumens or the stock LED lamp of 80 lumens.
The lights as they appear in the picture are, from left to right:
Surefire M-4 MN60 lamp 225 lumens for 1 hour (running on four 123ís batteries)
Bear Cub 220 lumens for 90 minutes, rechargeable
Surefire G-2 in yellow. It is 65 lumens for one hour with the stock P-60 lamp
Surefire G-2 in black, Lumen Factory lamp incandescent of 160 lumens
Surefire G-2 in green, Cree Q-5 by Deal Xtreme, 200 lumens
Surefire Centurion 2 in Jungle Camo, 290 lumens (claimed) with the Cree R-2 lamp
Fenix T-1, 225 lumens using a Cree Q-5 lamp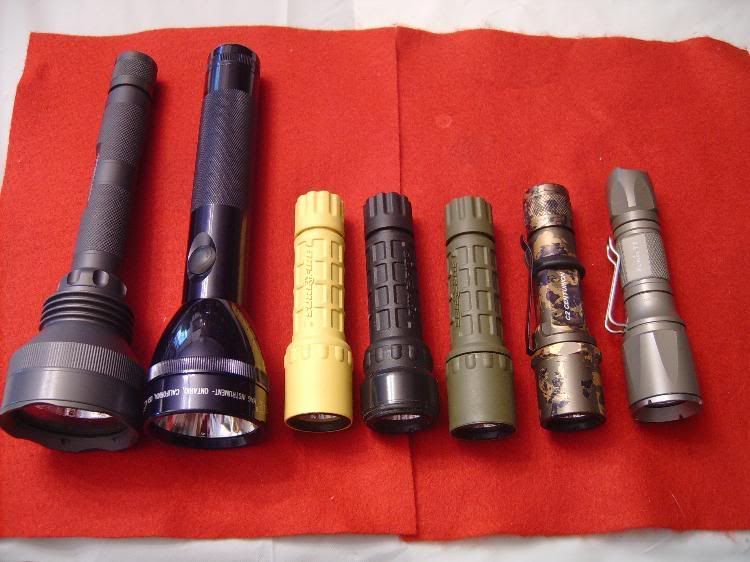 And now the pictures, target is 20 yards away, watch also the amount of side spill as well as the throw.
SUREFIRE M-4 DESVASTATOR 225 LUMENS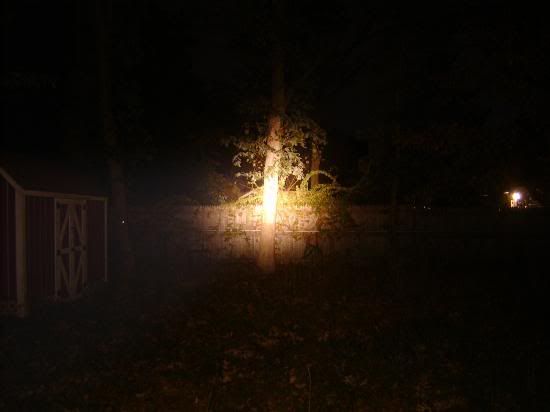 BEAR CUB RECHARGEABLE 220 LUMENS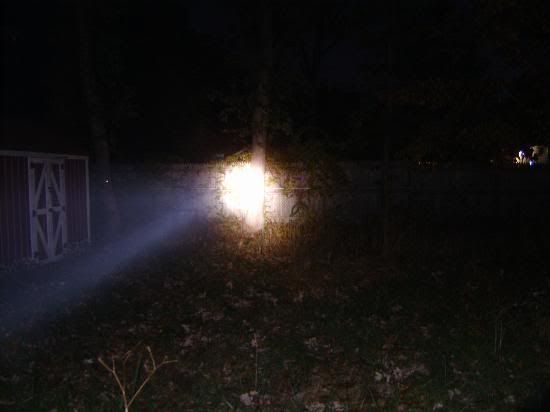 SUREFIRE G-2 YELLOW 65 LUMENS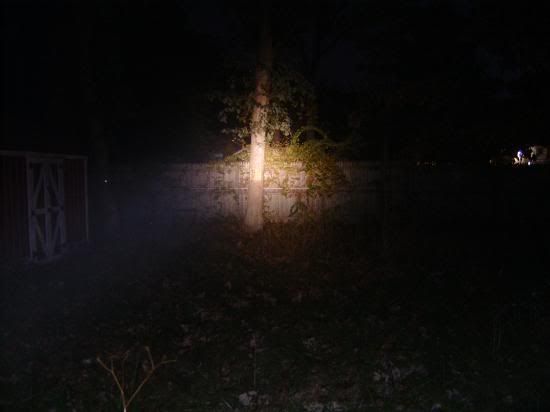 SUREFIRE G-2 BLACK LUMENS FACTORY 160 LUMENS LAMP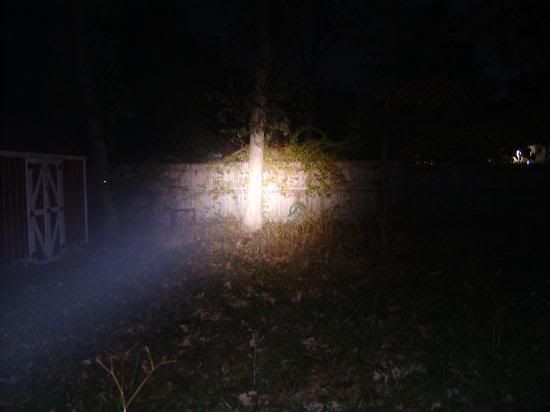 SUREFIRE G-2 GREEN, DEAL XTREME LAMP CREE Q-5 200 LUMENS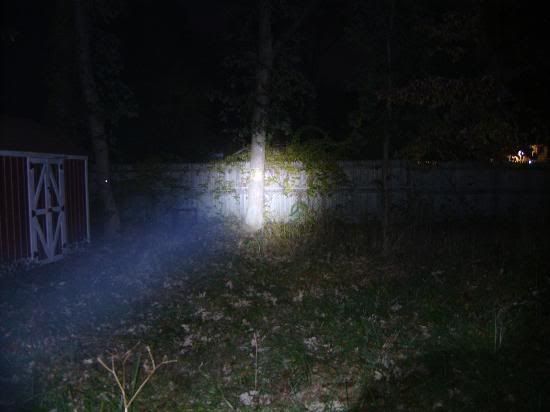 SUREFIRE CENTURION 2, CREE R-2 290 LUMENS (CLAIMED)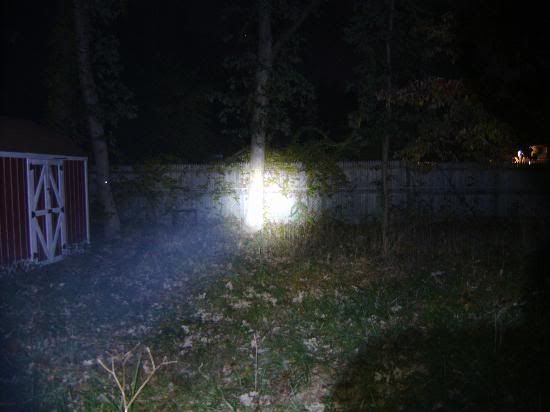 FENIX T-1 CREE Q-5 225 LUMENS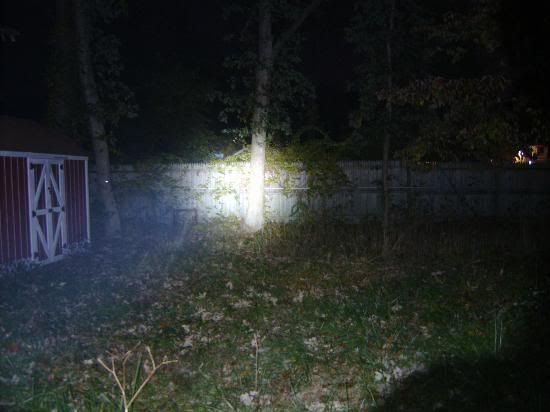 One word of caution with high intensity LED lights: most are not thermally regulated and they will suffer from their own heat if used for an extended period. They will get very hot and the tint will change. Short use of 5 minutes or less is recommended, especially in lights like the G-2 that has a plastic body and head.
All metal flashlights like the Surefire 6P are better at dissipating the heat, and in them a few more minutes of constant use can be achieved before the heat will damage the module.
The big heavy head of the Fenix acts as a heat sink, and this light can manage to run much longer without the heat affecting the module.
Besides, the Fenix has a second setting that will run the light at 60 lumens for 10 hours.
So, if you already have a Surefire you want to upgrade, the aftermarkets lamps are great.
If you need a new light look at the Fenix line.
If you need a truck, open spaces light, the Bear Cub is a great value as it is rechargeable and very bright as well as a 150 yards thrower.
Cheers
Black Bear