Re: ICP's ........... What?
(This is part two)
With hBN, heat is good but not entirely necessary. We use heat in the form of a Halogen body shop lamp. Placement of the lamp is critical for the well-being of your tumbler. Too close and you'll soften the plastic. Vibrate them for 3 hours. Remove them with a slotted spoon and tumble them in a Terry towel a few times. They'll come out perfect. This horizontal impact coating with steel BBs in a vibrator with no media makes them hit hard and fast, and that's the secret to perfect coating. Even small tipped bullets come out perfectly with no damage to the plastic tips at all.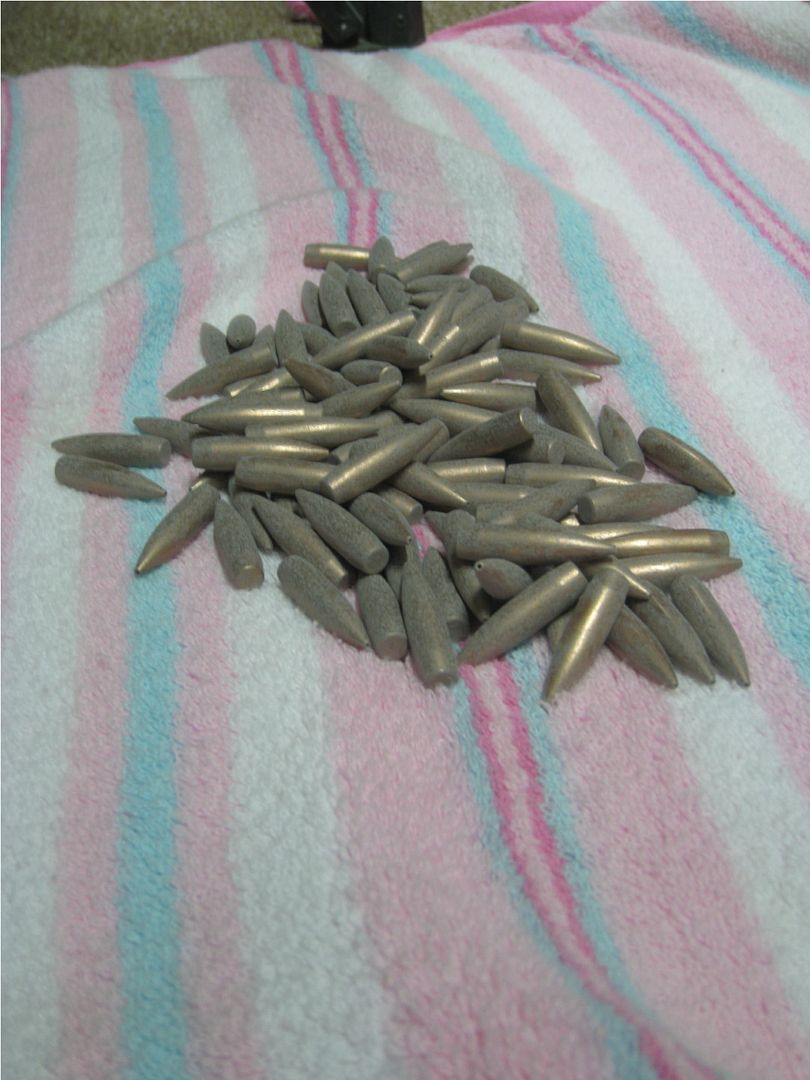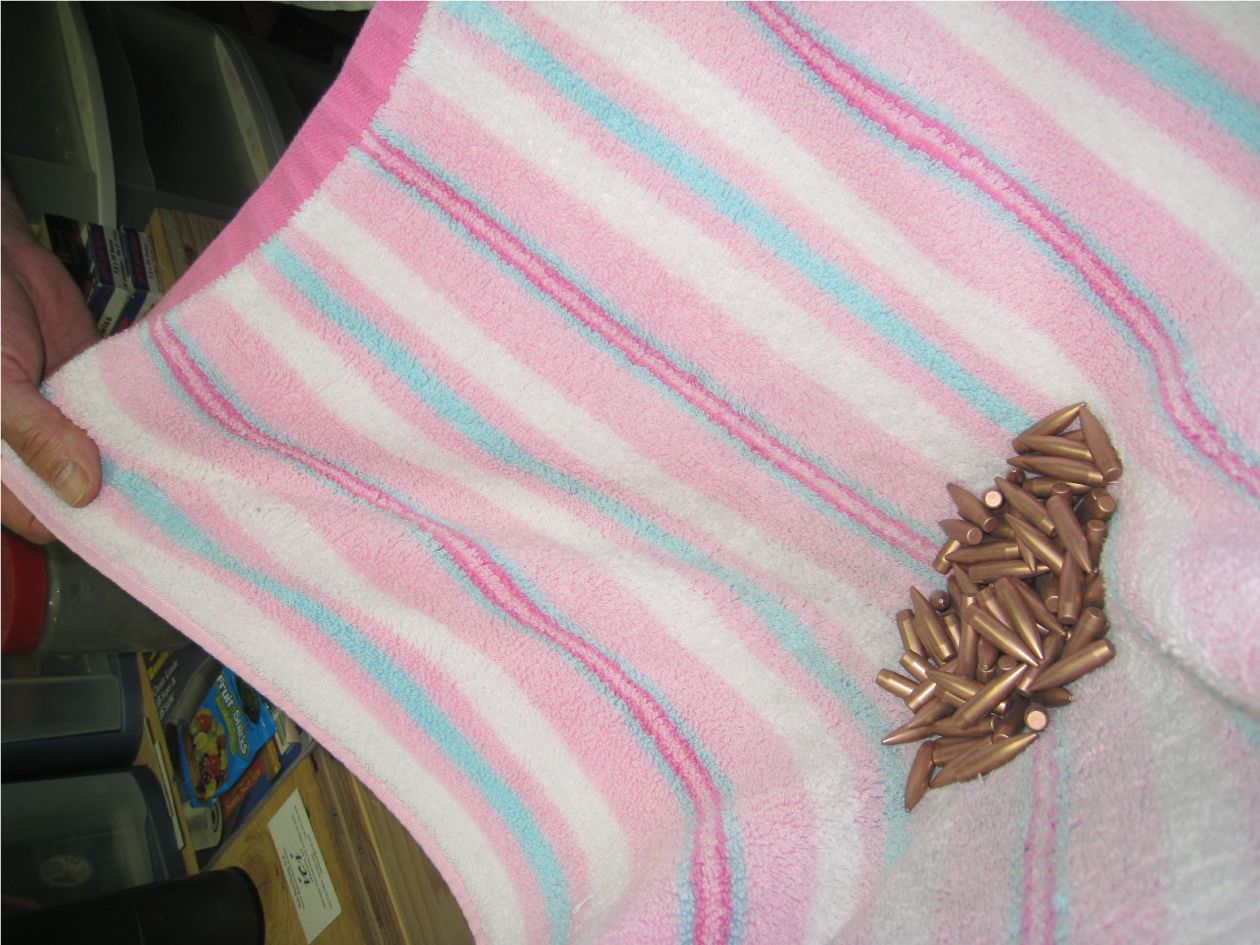 -----------------------------------------------------------------------------------------------------------
This original system we developed works well too. The advantage is that you can add media in the tumbler/vibrator and clean cases while impact coating your projectiles. We still do this once in a while, so we often have both methods going at the same time.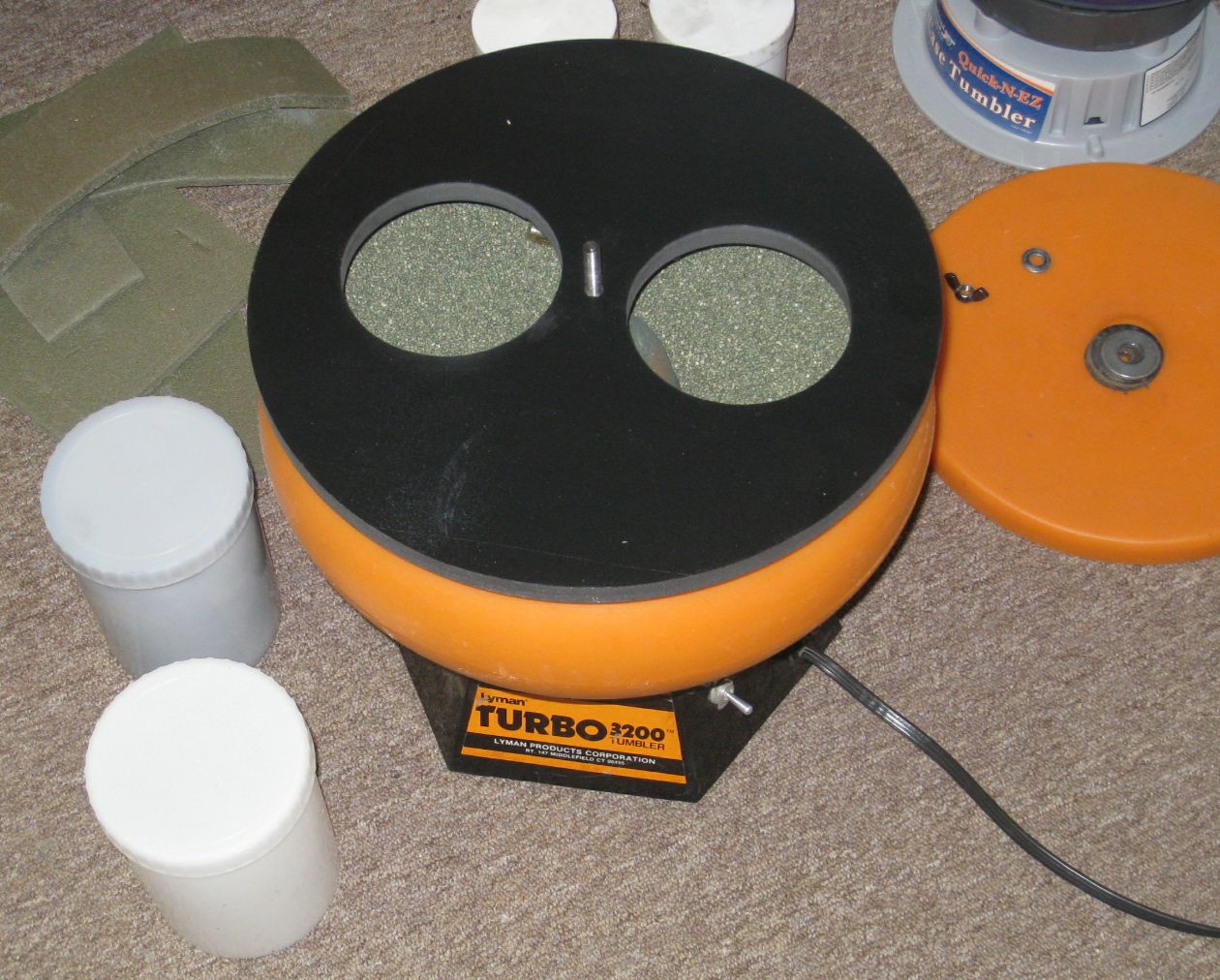 This is the original patent if you're inclined to read it all. Sometimes its not easy to find the pertinent parts in all of this dry reading, but its all there. We've made a study of it, and we're very successful doing it.
http://www.patentstorm.us/patents/7197986/description.html
(Another Email excerpt)
If not, be safe and use the Wipe Out with a nylon bristle brush, working up a heavy foam and let stand for a few hours.
Dry clean completley with patches or clean swabs.
Take a new .30 caliber cotton swab, or take your old ones and run them through the laundry or dishwasher.
Dry completely.
Short switch back to square one:
You'll get your hBN in a container with a plastic, tape seal around the outside. Open it with extreme care and only long enough to fill a small, sealable pill bottle 1/3rd full. Re-seal the container
immediately
. Re-apply the exterior tape seal fully and tightly. Store at room temps in a secure place. Spill that container in a room in the house and your wife will be using a bat on you for weeks to come.
(No, I didn't, and my wife uses Darning Eggs instead of bats)
Screw the swab to the end of a cleaning rod just long enough to run the bore, open the hBN/Alcohol slurry pill bottle, roll the swab in the hBN/Alcohol slurry, (close the hBN bottle immediately) insert into the bore from the breech end if possible. If your rifle won't acommodate that, run it carefully from the muzzle end. Go all the way through and then work it gently back and forth while slowly withdrawing the swab.
The first impact coated projectile fired through the bore will do the ceramic coating for you, and that's it. You've done it. From that point on fire
only
impact coated projectiles through that rifle. Cleaning is done with dry patches, no chemicals at all.
For the chamber/throat area, use the right sized swab to fit into each and use Montana Extreme or a like carbon remover.
Don't run any cleaning solvents down the bore
.
If you feel the need to do that once in a while, cool...... but make sure you use the
clean
swab and do the hBN/Alcohol slurry process again. It only takes a few minutes. I unscrew the swab and keep it inside the slurry pill bottle so that it remains uncontaiminated.
To understand how it works, save me a bunch of typing and read the patent.
So how often do you clean an impact coated bore? 50 rounds? 100? 200? 300? 1,000? I don't know yet. No cleaning required so far, and if the patent is correct it will be a long time to come.
The Hawkeye Borescope always tells the glaring truth about your bore. After each shooting session I pass one dry patch down the bore, just once. So far in any and all of the bores thus treated.......... no necessity to clean at all. The most amazing has been the little .22 rifles.