Re: A Pair Of Ruger Mini 14 Tactical's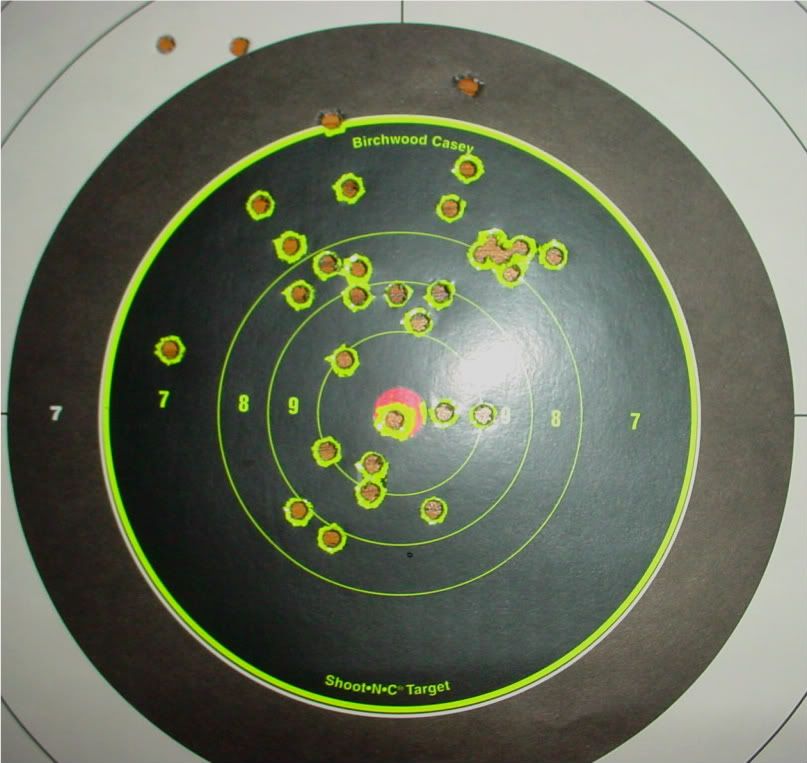 I had both of them out yesterday. This was shot at 100 yards, (both rifles) 16 rounds each with the factory iron sights and my 59 year old eyes. 2 different handloads were used. The first was a 55 Gr. WW FMJBT over 25.0 Gr. of AA 2230-C. The second load was a 55 Gr. Lake City FMJBT over 25.7 Gr. of H-335. I fired equal amounts of each load in both rifles, 33 rounds total. I think I loaded an extra round in the Stainless Model, I can't remember.
I never touched the sight adjustment on either gun. Both were shot as they came from the box. No adjustment was necessary. Both guns functioned flawlessly with not one single FTF or FTE. The 25.7 Gr. load of H-335 was substantially hotter. Brass was ejected about 20 feet to the right, and 5 feet to the rear. The 25.0 Gr. loading of AA 2230-C was slightly less, but functioned both rifles just as well. The wind was around 7 to 15 MPH and the temp was right around 70 to 75 degrees.
All in all I'm very pleased. With a good scope and mounts, and match grade ammunition, these guns could easily be capable of much better. I had no trouble ringing 12" steel plates at 200 yards with either gun with the factory sights. All total I put around 160 rounds downrange with each rifle. All the 20 round Ruger factory magazines supplied with both rifles performed flawlessly as well. The mags are a little trickier to remove than an AR-15 magazine, but once you get the hang of it they're not bad at all. You have to get in the habit of rocking them forward, then pull them back and out. They then come out very easily. Overall it was a good day, and there were no issues with either gun. After a good cleaning and lubrication these actions are really slick. If anyone is still hung up on the inaccuracy of the Ruger Mini 14, you might want to reconsider. These guns are quite a bit more accurate than the older models.