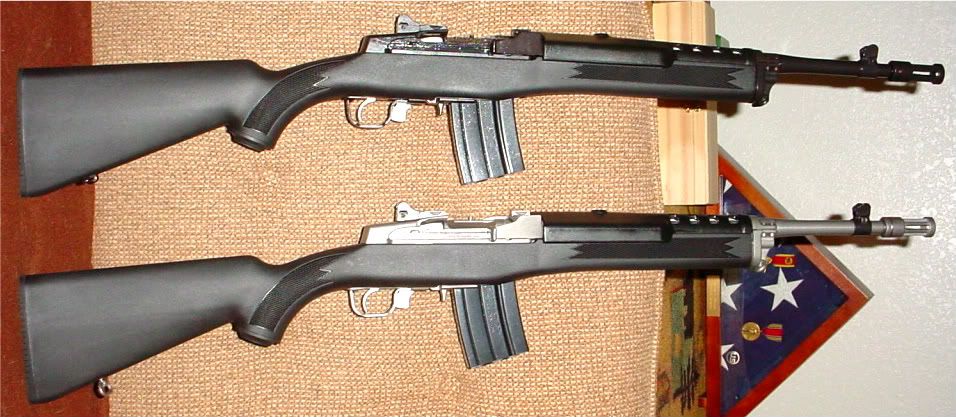 I picked these 2 up a couple of days ago. Both are the newer Tactical Mini 14 Models, one in Stainless, and one in blue. Both are identical except for finish. The blued model has a slightly longer over all length.
I have a NRA Edition Mini 14 I got a couple years ago when they came out. It has the Hogue Overmolded stock with the gold NRA Medallion set in the pistol grip. Both of these have the standard synthetic stock. The Ruger Mini's are some of the most pure "fun guns" out there. The blued model came without scope rings and 2, 20 round magazines. The Stainless model came with rings and one 20 round magazine. I'm planning on not scoping them, and running them with iron sights. The sights supplied are adjustable, large aperture, front protected blade type.
These newer models have the thicker barrels, along with Ruger's improved method of attaching the gas block that is supposed to help eliminate tweaking and stress in the barrel itself. This caused a lot of the older models to walk all over the target as the barrel heated up from a lot of continuous rapid fire. The newer models are much more stable, and more accurate in that regard. The guns are typical Ruger and built like a tank, and the actions cycle nice and smooth.
I've handloaded a ton of .223 / 5.56 MM so I'm anxious to get them to the range next week. The weather is finally starting to break here. It was just 63 degrees this morning. It's time to get out and shoot after a long, hot Summer!