I'm copying a post of my brother's, and I can tell you that this mini14 really does work well.
--------------------------------------------------------
Not meaning to go off topic, and its sorta on topic... So you remember those semi-crappy $99.00 stocks from Muzzlelite? Plastic halves bolted together?
Well. I found two of them in the armoury about two years ago, took one apart and found the guts were all plastic.
I was bored, so I replaced all of the plastic parts with new machined parts from tool steel. I inserted a Mini-14, bolted it together and got a real surprise! The sucker worked great with no more than an 8 pund trigger pull. Not bad for that kind of a setup.
This is the machined trigger on the end of the steel follower slide...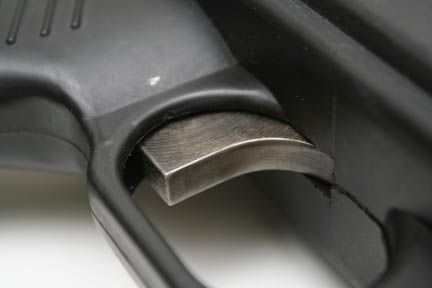 And I cut off all the plastic sight crap and drilled and tapped two steel plates, sandwiching the carry handle, mounted an Aimpoint to it and........ Presto!
A functional bullpup! :lol: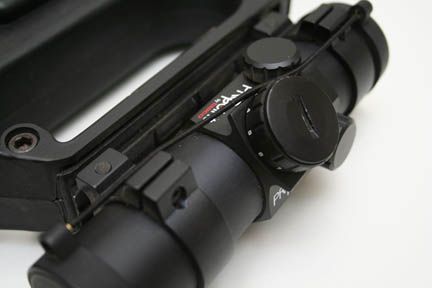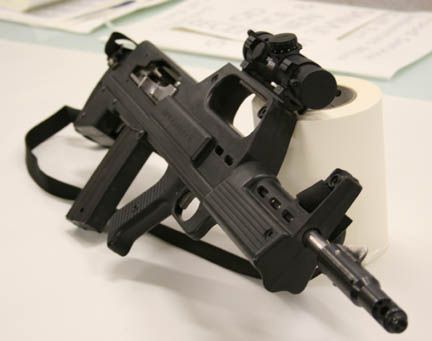 Inside the original Muzzlelite, there's a plastic plate/slide as wide as the stock and begins at the trigger. The original trigger is plastic and is formed at 90 degrees to the flat plate. The plate (slide) goes the length of the stock in two plastic side channels back to the trigger. There is a plastic appendage at the end of the slide that puts pressure on the trigger, firing the rifle.
The whole setup is mushy feeling and the slide flexes upward as much as it can, only being stopped by the not very tight rails.
I machined two narrow steel inserts to place in the side rails the entire length. The fit was a good compression fit. This provided a smoother, slicker surface for the slide to ride on. I made a thinner steel slide with the new trigger at 90 degrees to the slide on the CNC from a 1" thick bar of tooling steel. I did that because I wanted the trigger and slide to be one unit with no welding.
I replaced the plastic safety bar with steel as well, and.......................... My wife is hollering that I'd better get my sorry rear end to the dinner table.
More later
Latigo
----------------------------------------------------
1911sr