I finally got out to the range with my newly aquired TN Guns FPK/PSL.
I drove myself nuts trying to decide if I should get one of these or not, the reports from others who have this type of rifle have ranged from wonderful to absolutely awful. I set out to find an import gun that was in stock at a gunshow or dealer that I could check out personally but I never could put my hands on one.I walked into my favorite dealer about 3 months ago and there was this TN guns kit built gun on the table, just came of the BBT hadnt even been priced yet.I looked it over and thought that everything looked right so I raided my safe and sold off a couple of milsurps and a Romy G that I had built to fund the PSL.
For the past 3 months I`ve been wondering if that was a good thing to do,if this rifle was capable of no more than 4" or so at 100 yds. I would be really ticked.
I started scrounging surplus ammo where I could find and wound up with a few bundles or boxes each of Polish LPS, Hungarian light ball, Bulgarian light ball, Czech silvertip, Wolf 148 gr. bimetal and of course the obligatory 7N1.I needed to find what shot well in my rifle before I bought any ammo in bulk.
The range was Styx River Shooting Sports in Robertsdale Al. they are good friendly folks and the range has 100 and 200 yard lanes.It was 50 degrees and very windy, I almost didnt go because it was so windy but I had to find out if my new toy was worth the trades I had done.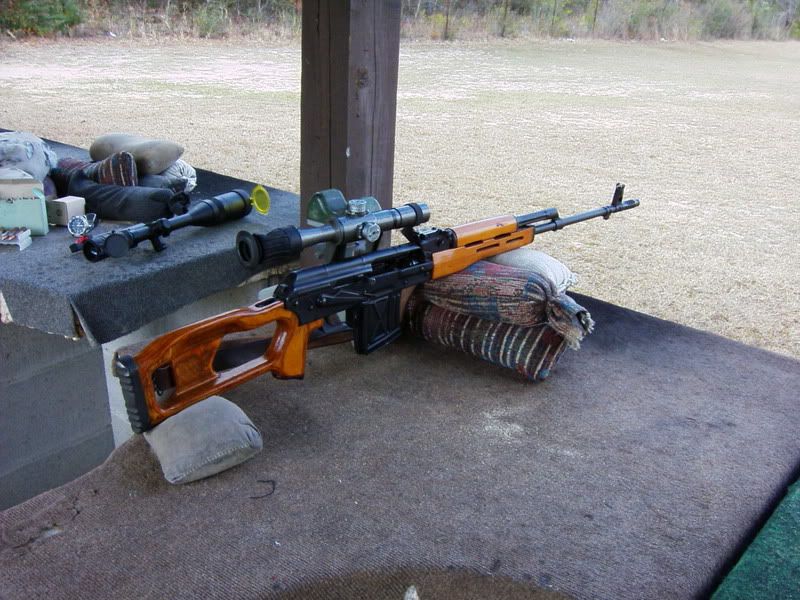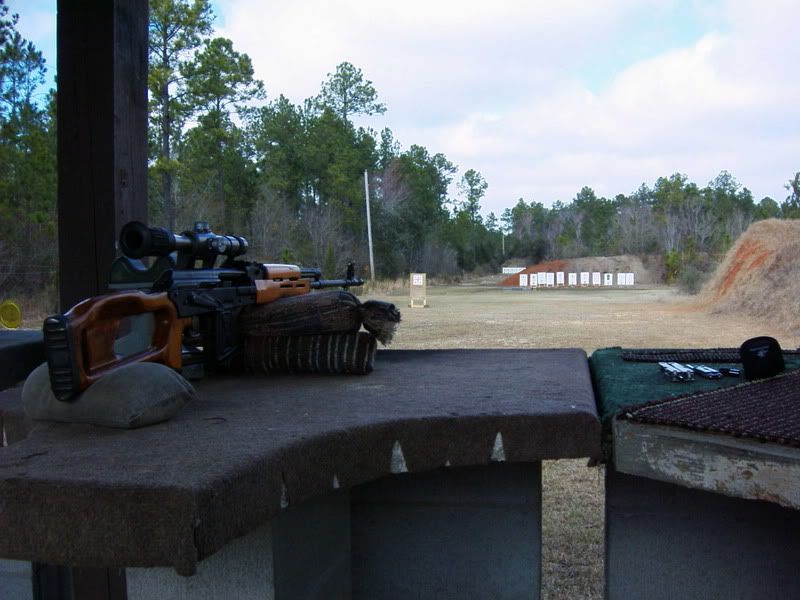 The only modifications I made to the rifle was to remove a bit of wood in the lower handguard where it touched the barrel, other than that the rifle is bone stock,the scope is the standard Romanian LPS tip2 4X that came with the rifle (yes the same scope I tore apart trying to re-illuminate the tritium reticle-I guess I got it back together O.K.)
Zeroing the rifle was quick and easy, the reticle wound up being in the center of its field of travel once zeroed(which was nice) There were 2 FTF issues with the Polish LPS other than that the rifle functioned fine, very mild recoil-a joy to shoot.
Groups were fired at 100 yds, waiting at least one minute between shots, the bore was cleaned after each ammo type.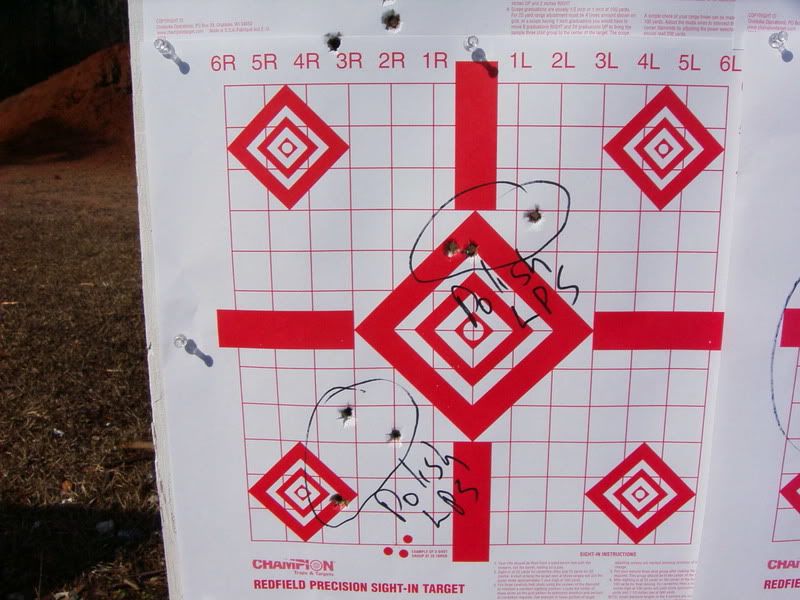 The Polish light ball went into about 2-2 1/2 inches I didnt photo the targets from the hungarian and bulgarian light ball but they were in the 3" range.
At this point Im feeling fairly good about the rifle but I was hoping the other ammo types would give better results.