I thought you guys would like to see this. It's my Brother's M1 Garand. He said I could copy and paste his post from his own forum. It's a cool rifle and a pretty cool story about how it got here. I mean to us.
---------------------------------------------------------------------------------
This is a one of three Garands built by Don McCoy in this specific manner. The 190gr projectile is specified, and now I should be explaining what we found on our range today.
The rifle doubled. Twice. The barrel has been hBN sealed and we're shooting 175SMKs, impact coated. Chrono shows a nominal 2,475. There's no doubt that the gas port is set to acommodate the 190s without damaging the op-rod.
This is the rifle.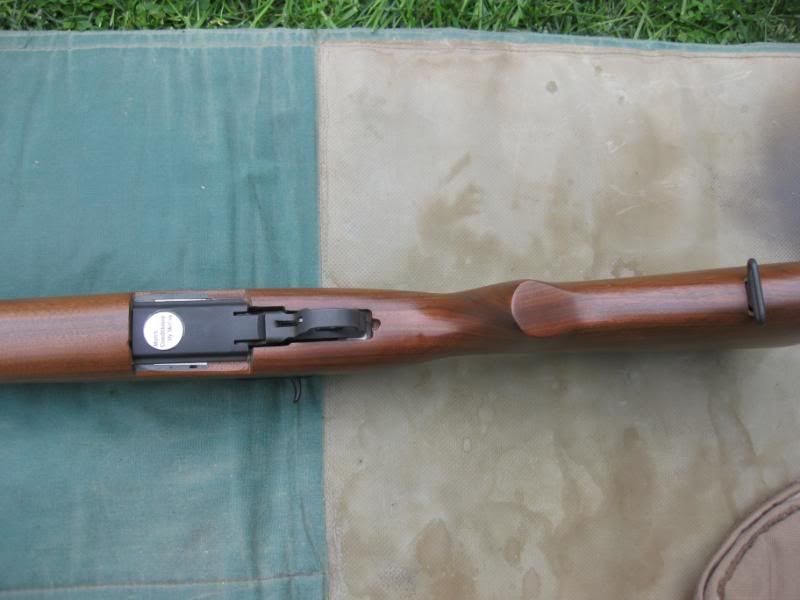 This was the original explanation.
----------------------------------------------------------------
Noted Garand competition builder and accuracy specialist Don McCoy of Santee, CA, built this M1 for me in 2001. It is built on a selected Springfield receiver (1943 manufacture date), and has an Obermeyer 5R barrel with 1:10 twist. It is designed to shoot 190-grain bullets with exceptional accuracy out to 1000 yards.
This rifle has numerous custom accuracy features, including a lugged receiver, glass bedding with additional custom fabricated steel plate fittings that tie the receiver into the bedding with 3 bolts, ½-minute rear sight, reaming to ensure barrel & gas cylinder clearance as well as machining the end of the gas cylinder for stock clearance, and many more machined accuracy refinements. The forward hand grip is also glass bedded with attention taken to ensure complete clearance for the op-rod. The heavy stock is English walnut with a Fullerplast finish as only McCoy can do.
The 2-stage trigger is extraordinarily smooth and makes the rifle a joy to shoot. The rifle has approximately 40 rounds through it. It was function-fired by McCoy and later broken-in by myself using Tetra Gun followed by a dry patch every round for the first 10 rounds, every other for the next 10, and then 5 + 5 for the final 10 rounds. After the last 5 rounds it was immediately cleaned with Tetra Gun, dried, and a patch with Militec-1 lubricant was run down the bore while it was still hot. After returning from the range, the bore was cleaned with Sweets 7.62, followed by Tetra Gun. Lastly a patch of Militec-1 lubricant was run down the barrel. All cleaning & lubrication/protection was run from the breech to the muzzle.
From here on out, the rifle will clean up easily with either Tetra Gun or Kroil, followed by the Militec-1 for conditioning and as a protectant/preservative. An application of Sweets 7.62 every 200 rounds or so will help prevent copper build up. The purchaser will get the fired brass from the break-in session.
This rifle is one of only three like it that McCoy has built in his long career building match Garands. His clients include some of the top High Power competitors and collectors in the country. I have a McCoy M1 in .308 with an Obermeyer 5R 1:11 barrel, which I fired in many High Power matches with great success.
A fine, accurate, and unique rifle from one of the outstanding M1 accuracy specialists at the peak of his career.
I also have video of McCoy in his shop going over the features of this rifle which I'm sending with the rifle.
-----------------------------------------------------------------------------
By "one of three" I didn't know what he meant until the video on the rifle arrived. It was made by McCoy explaining the exact constrution of this rifle by serial number. Beside every aspect of the rifle being bedded, its triple pillar bedded. I'll post another picture of those pillars as soon as I get my sister in town to forward them our here.
So, should I be using 190's exclusively or can I simply boost the charge to obtain the right pressures?
---------------------------------------------------------------------
This was a question by a Garand competition shooter.
"The next question I have is how do you know the McCoy rifle you have was built to fire only 190 gr. bullets."
----------------------------------------------------------------------
Because McCoy made a point of it in the DVD he made for this rifle.
This is the bedding. Note the three welded pillars and the corresponding bedded receivers in the stock.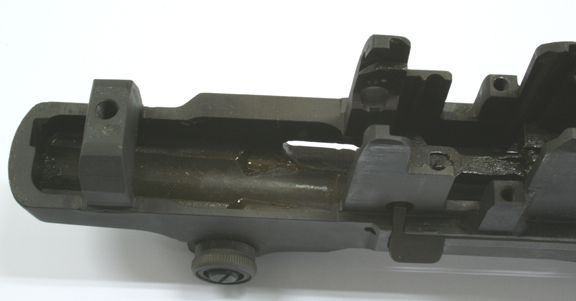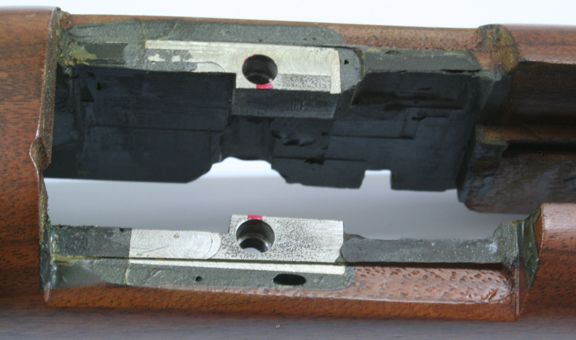 It seems that Mr. McCoy and I will be speaking today. He feels there may be a timing problem. He's very ill now and I won't be taking much of his time. With his advice I intend to solve it here. I posted this in case you gents thought of something I've missed. I was hoping to not have to bother him at all if it appeared to be something obvious to you. I suspect pressures too low may be involved, but I've never dealt with a M1 that was a custom build.
Thanks for any advice.
BTW........ Close examination of the trigger group shows a positive lock up and plenty of hammer/sear contact before release. The trigger seems to be a 4.5 pull.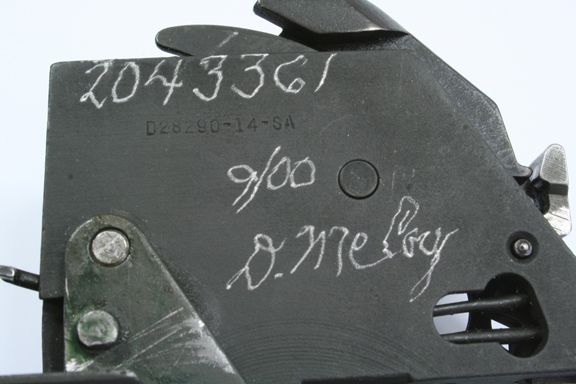 Makers Medallion.
Stage one.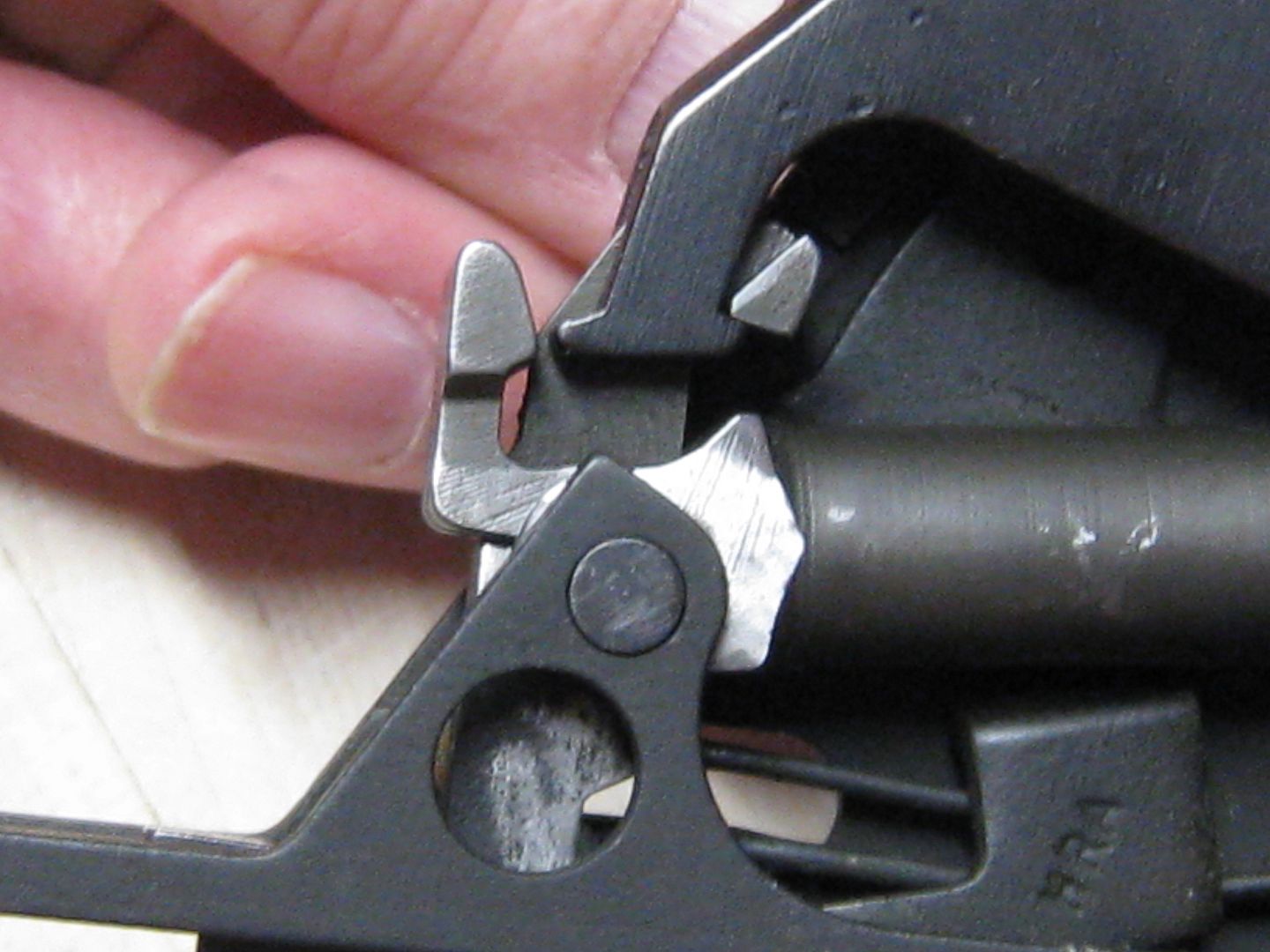 Stage two.
Any ideas at all? Dumb in the first place to try a 175 in lieu of a 190? Any ideas before we bother Mr. McCoy?
Latigo
----------------------------------------------------------------------------------
Latigo,
Mac adjusts his triggers to the absolute minimum sear engagement, with most of the weight in the first stage. I was
sure
that mine would double, but it doesn't. It has been very, very dependable. But mine is single lugged only at the back. (I went and dug my triple lugged rifle out of the safe a while back ... it was built be Clint Fowler, and the forward lugs are slightly different and located more forward).
These rifles are meant to be fired with the buttplate HARD into your shoulder, even in offhand where you can't use the sling. If you use a "soft" hold as in benchrest shooting, you are probably bump-firing it. The combination of the way the rifle recoils, and the trigger technique ("milking the trigger") will make it double, or even simulate full auto fire. I can do this on purpose, it gets folks attention with an M1A and ten rounds in the magazine. (if you are using your mechanical rest, you may get the same efect)
I would fire it in a good solid prone postition with a tight sling. If you want the security of a rest for ammo testing, put a sandbag under your gloved hand. If it still doubles, do the same with M72-equivalent 173 or 175 grain loads. If it still doubles, it needs some attention. The Easy Button would be a new hammer tuned for a bit more sear engagement. If all this doesn't work, then you need to talk the The Master himself. The "unkown" to me is how Mac's forward lug system may effect the way the rifle flexes under recoil forces, and how that may effect the minimum tolerable sear engagement.
Hope this helps ...
Resp'y,
Bob S.
USN Distinguished Marksman No. O-067
--------------------------------------------------------------------------
I think it does help. I was prone with the rifle bagged fore and aft. My usual way to pull the trigger on any rifle is to pull with folllow through and hold the trigger to the rear before making a conscious release............................. but considering his trigger setup, now I'm not so sure.
After doubling, I extracted the next chambered round and we noticed the primer was dimpled. I also
think
I remember having pulled the trigger after doubling and there was no release, just as if the hammer had not reset at all. I cycled the bolt and it fired the
next
chambered round ok.
Ok, so the load was with a FLS case, TTL less than manual length, primer seated just below flush, 175gr SMK seated 10 thous off the lands, 45.5gr of 4895 and a MV of 2540. I had a guy tell me about the US Army Manual data book listing the 173gr with 50gr of 4895. It sounded way wrong so I googled it and found there had been an error in TM 43-0001-27 saying that 50gr of 4895 was a match load with the 173gr projectile. I'm thinking now that I should have been at 46.5gr of 4895 anyway to make things work with the right MV and pressures. With a gas port tuned specifically for a 190, can chamber pressures that are too low cause any of this?
And the soft hold sure could have happened. I was excited about the whole thing anyway.
Latigo
-------------------------------------------------------------------------------
Don (Mac) McCoy, now in his 90's and I just spoke to him and his protoge on the phone. Too much info to type right now, but I'll be back after we implement everything he asked us to do with the rifle with full explanations.
Latigo
----------------------------------------------------------------------------------